Computer security will always be a cat and mouse game.  The topic of today is around Android tablets and smart phones.  It looks like the built in browser for Android versions earlier than 4.4 may have a rather nasty security bug. In a nut shell; a bad site that you visit can read your stored usernames and passwords from a legitimate site. This would be really bad if you saved your banking password and username in your browser.
The further bad news is that the built in Android browser only gets updated when your update your tablet or phones Android version. That is bad because only the latest version is protected and a lot of old devices will never run the newer version.
The good news is: a) Google has finally acknowledged the problem and b) there is a way around it.
The easiest way around it is to use an alternate browser on your smartphone or tablet. Chrome, Firefox or Opera will all work. You can click the links to go directly to the Google play store and download them. The good news with those browsers is that they can also be updated separately from your devices main system, so they can be patched.
So if you normally use this icon to surf: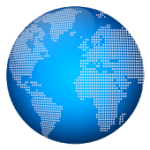 It may be time to switch to a new browser, and change your passwords.
Give us a call if you need help walking through this. We are here to meet any of your IT needs and solutions!
Read more at the article source at arstechnica